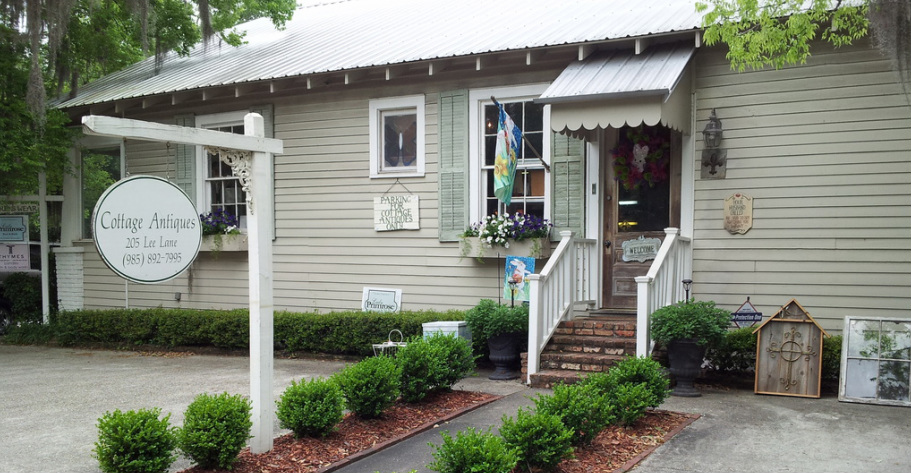 APPAREL & LINENS
Infant ~ Children
Vintage ~ New ~ Monogrammed
Belts ~ Hats ~ Purses

ART ~ PHOTOGRAPHY
& POTTERY
Originals by local Artists
Vintage ~
New Orleans & Louisiana
Religious ~ Iconic



COLLECTABLE
& DECORATIVE
Fenton ~ Noritake etc
Crystal
Dishes ~ Platters
Dolls ~ Figurative
Clocks ~ Mirrors
Glassware ~ Vases
Flatware ~ Silverware
Stemware
Statues ~ Religious Icons
Vaseline Glass
Shopping Assistance



FURNITURE
Antique ~ Unique
New ~ Rustic ~ Shabby
Custom Designed
Furniture Shopping Assistance



HOME DECOR
ITEMS & SERVICES
Reclaimed Architecture
Clocks ~ Mirrors
Light Fixtures ~ Lamps ~ Chandeliers



JEWELRY
Custom ~ Vintage ~ New
Cameo's ~ Gold ~ Silver
Turquoise ~ Religious



PERSONAL ITEMS
Handmade Soap
Fragrances
Aromatherapy
​


THYMES &
LADY PRIMROSE
Aromatherapy ~ Scent Lines
Natural Soaps & Fragrances


STORE HOURS
Monday thru Saturday 11am - 5pm
Closed on Major Holidays


SHOP INFO
This modest wood frame construction was built in the 1830' as the servant quarters for the home south across Rutland Street. Located in Covington's Charming Historical District. We have twelve merchants that carry quality & diverse merchandise. We like to think of it as "HISTORICAL" Our shop is like a HISTORY ARTIFACT MUSEUM" We have provided only a few pictorial examples to entice you, there are MANY...MANY more. NOTE : INVENTORY CHANGES ALMOST DAILY ! PLEASE Email with any particular Furniture or Accessory needs. Our Merchants are very resourceful and enjoy assisting in your shopping search.
Visit for a Historic Artifacts Museum Experience.


INDEX OF IMAGES

Gallery 1 - Apparel, Art, Clocks, Mirrors, Jewelry, Personal Items

Gallery 2 - Furniture, Glass, Copper, China, Porcelain, Silver, Home Decor, Lighting, Linens

Gallery 3 - Offsite Inventory = Merchandise stored off site

MERCHANTS & SERVICES
Resident Artist
Original Acrylic Works

FAYE'S FUNATICS
Joyce Blackwell
Antiques & Collectables
Furniture & Accessory & Shopping Assistance
Chandeliers, Lamps, Stemware, Reliques



JANICE PEMBERTON
Reclaimed Architecture
Religious Icons etc.